This plugin integrates GitBucket to your Jenkins.
GitBucket is the easily installable Github clone written with Scala. It provides a basic features below:
Public / Private Git repository (http access only)
Repository viewer (some advanced features such as online file editing are not implemented)
Repository search (Code and Issues)
Wiki
Issues
Fork / Pull request
Mail notification
Activity timeline
User management (for Administrators)
Group (like Organization in Github)
LDAP integration
Gravatar support
Executable war file
and more
See also blog.
Feature
The keywords in changelogs are hyperlinked to the corresponding Issue pages, Pull Requests pages and Wiki pages.
The changeset and diff in changelogs are hyperlinked to GitBucket repository viewer.
Trigger a build when a change is pushed to GitBucket using a WebHook.

GitBucket does not fire webHook when merging via GUI, so this plugin does not tgigger a build.
Setup
GitBucket 1.6 or later.
Git Plugin 1.5.0 or later.
Hyperlinks to GitBucket issue, pull request and wiki pages.
Jenkins
Supports the following notation.
_123

| | |
| --- | --- |
| issue | refs #123 , refs 123, issue #123, issue 123, fix/es/ed #123, close/s/d #456, resolve/s/d #789 |
| pull request | pull #1, pull 1 |
| wiki | wiki word |
Repository viewer
Jenkins
Trigger a build
GitBucket
Configure GitBucket to use http://\[your.jenkins.host\]/jenkins/ gitbucket-webhook / as a WebHook.
Jenkins
Check "Build when a change is pushed to GitBucket" as a Build Triggers.
and configure "Source Code Management" to use git.
Build Trigger Badge Plugin support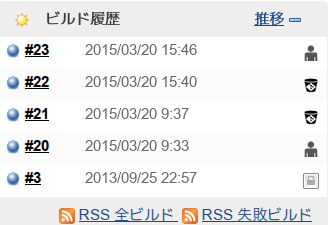 Changelog
Version 0.8 (Sep 10, 2015)
Version 0.7 (Mar 31, 2015) GitBucket 3.1 is available.
Version 0.6 (Mar 21, 2015)
Build Trigger Badge Plugn support.
Version 0.5.1 (Apr 28, 2014)
Supported Git Plugin 2.2.1 or later.
Version 0.4 (Nov 30, 2013)
Support Crumbs exclusion.
Show who pushed this build.
Add "Pass through Git commit".
Honor QuietPeriod when scheduling a job.
Version 0.3 (Oct 22, 2013)
Updating to Jenkins 1.536 caused NPE.
Version 0.2 (Oct 3, 2013)
Version 0.1 (Sep 30, 2013)
Questions, Comments, Bugs and Feature Requests
Attachments:
GitBucket_WebHook.png
(image/png)
jenkins_buildtrigger.png
(image/png)
jenkins_hyperlinks.png
(image/png)
jenkins_browser.png
(image/png)
jenkins_buildtrigger.png
(image/png)
buildtriggerbadge.png
(image/png)